You got unlucky with your Mardu-oriented sealed deck today, opening few quality creatures in your best colors. Still, you had some good noncreature spells to anchor your deck, and you were able to cruise past your first two matches before you met Momilani.
Momilani came out of the gates with a bunch of fast creatures, and it took you a lot of effort to stem the tide. In your attempt to keep the creature rush under control, you spent a lot of your best removal spells as well as quite a few creatures. Unfortunately, Momilani then revealed her late-game gambit in the form of Destructor Dragon.
The Dragon has since been taking chunks out of your life total, and last turn saw you in the unenviable position of being at 4 life with no blockers. Unwilling to lose after all your effort, and unwilling to give Momilani the satisfaction of a win, you decided to concentrate intensely on your lone card in hand (a swamp) and try to bluff your way through.
Surprisingly, it worked. Instead of attacking with her Dragon last turn, Momilani instead elected to cast Fascination, giving you each six cards. Then she ended her turn, ready to flood the table with a new supply of creatures.
You're pretty sure that Momilani isn't going to hesitate to attack with her Destructor Dragon next turn, so you effectively have one turn to figure out what to do. You untap your cards, take your draw, play your swamp, and… well… win the game, come to think of it.
It is the middle of your first main phase. Can you win the game this turn?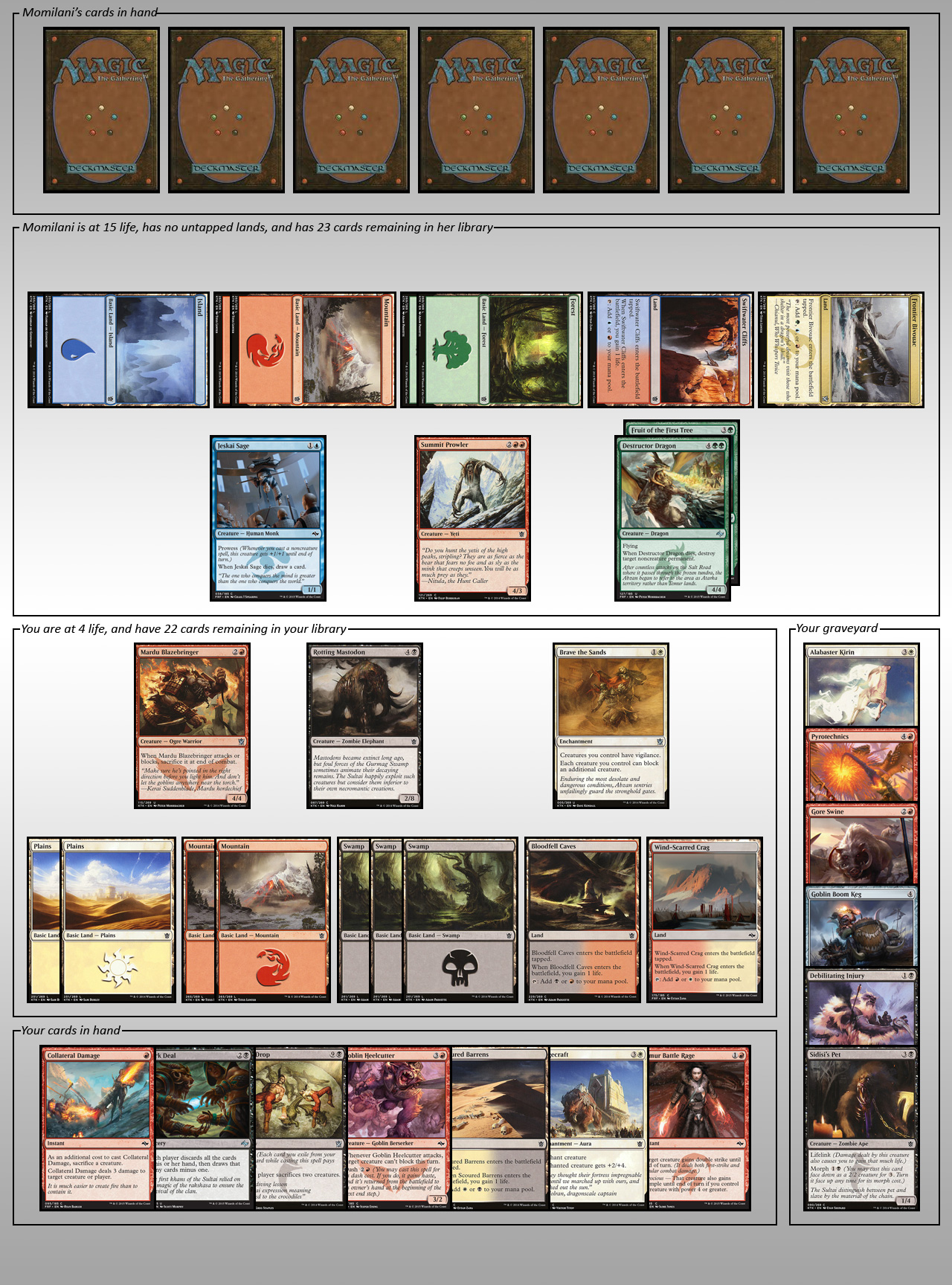 Momilani is at 15 life and has no untapped lands. She has seven (unknown) cards in her hand, and has 23 cards in her library. She has the following cards in play:
You are at 4 life, and have 22 cards remaining in your library. You have the following cards in play:
2 plains
2 mountains
3 swamps
You have seven cards in your hand:
You currently have six cards in your graveyard:
You have already played a land (a swamp) this turn.